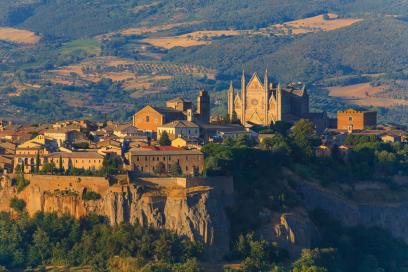 Yes, Florence and Rome are two of Italy's classic tourist destinations, hardly "hidden treasures" themselves per se (as usual, "god is in the details!")… but on the road between these two magical cities you will find one of Hidden Treasures' favorite hidden treasures in all of Italy.
The hill-top city of Orvieto – high on an isolated volcanic plateau, just off the main highway, on the southern-most fringe of Umbria (one of the most fascinating of Italy's twenty different regions) A small city worth a stayover, not just an hour's visit. In fact, for years now, our own family has considered Orvieto as an ideal weekend get-away destination.
The unique façade of its Renaissance Duomo, gleaming in the late afternoon sun, is by itself worth a detour. And the unique "Pozzo di San Patrizio" (a deep medieval well – more than 200 feet – with two unconnected spiraling staircases for visitors, one descending and one ascending), its narrow streets and stone walkways, its medieval architecture… as well as its breathtaking views of the surrounding countryside. Good restaurants and welcoming small hotels, too. Of course, Hidden Treasures would be delighted to share its own personal favorites… both in the city itself, as well as in the surrounding territory.
For example, Orvieto is not only a logical stop-over destination on the road to (or from) Rome, situated near the invisible borderline where Tuscany, Umbria and Lazio meet, it is also only a short drive away from Todi, yet another fascinating Umbrian town. With its three sets of city walls, dating from Etruscan, Roman and Medieval periods. Renaissance palaces, squares… so many hidden treasures around every corner!
Or, just a virtual stone's throw from Orvieto in another direction, in northern Lazio, is the small town of Bolsena (formerly an ancient Etruscan city called Volsinii), situated on the banks of Lake Bolsena, of volcanic origins. Off the beaten path to be sure, but fascinating and peaceful. A late afternoon aperitivo by the lakeside? Count us in!
There are also a goodly number of welcoming family-run B&B's and evocative Villas available for rent in the area – some within sight of Orvieto's panoramic skyline. Almost like a trip back into time!
Besides Orvieto, there is something unexpected hidden behind almost every hill on the main road between Florence and Rome. Hidden Treasures will be happy to point the way, depending on your own personal interests.
Next week? We'll be flipping a coin to help decide on yet another off-the-beaten path Italian destination to highlight. And, oh, if any of you might have a suggestion for a future blog destination topic, please don't hesitate to let us know… we'd be delighted to respond to your curiosity!
An Umbrian treasure on the road from Florence to Rome…