A different kind of blog post today. Not something typical for Hidden Treasures… but yes, we do sometimes help to organize special small group travel events. One such initiative is a specially tailored opportunity, organized this year for a small group of Formula 1 racing enthusiasts in Indianapolis.
First, a bit of background. Many years ago, when I was first involved with Hidden Treasures, I was a co-chair of the international Sister Cities committee in Chicago. Because Chicago and Milano are indeed official Sister Cities… and we were often organizing special interest cultural activities in the Windy City to promote closer ties with my home town of Milano.
Fast forward to today. After many years of HTI activity back in Milano, we now find ourselves back in America once again, in Indianapolis… for family reasons. And guess what? Indianapolis (home to the annual famous Indianapolis 500 racing event) is an official Sister City to the Italian city of Monza… the site of Formula 1's annual Italian Grand Prix race in early September. What better "alibi" for organizing a special cultural adventure in Italy for a small group of Indianapolis fast car lovers?
For the fun of it, you can see here a copy of a flyer that is being circulated throughout the greater Indianapolis area these days… announcing / promoting this informal Sister Cities-inspired cultural travel initiative.
Net? If any of our readers might have any special small group travel interests (a fashion-related sales incentive trip to Milano; an extended regional cooking tour in Tuscany; a soccer-themed adventure during Italy's Serie A season; etc.), please don't be shy about asking. Perhaps we could be of help.
Which in no way will ever distract us from our primary passion and experience for organizing highly personalized itinerary needs and desires for "individual" travellers – for you, your family and close friends. Smile.
Next week? Another of our favorite hidden treasures to tempt you!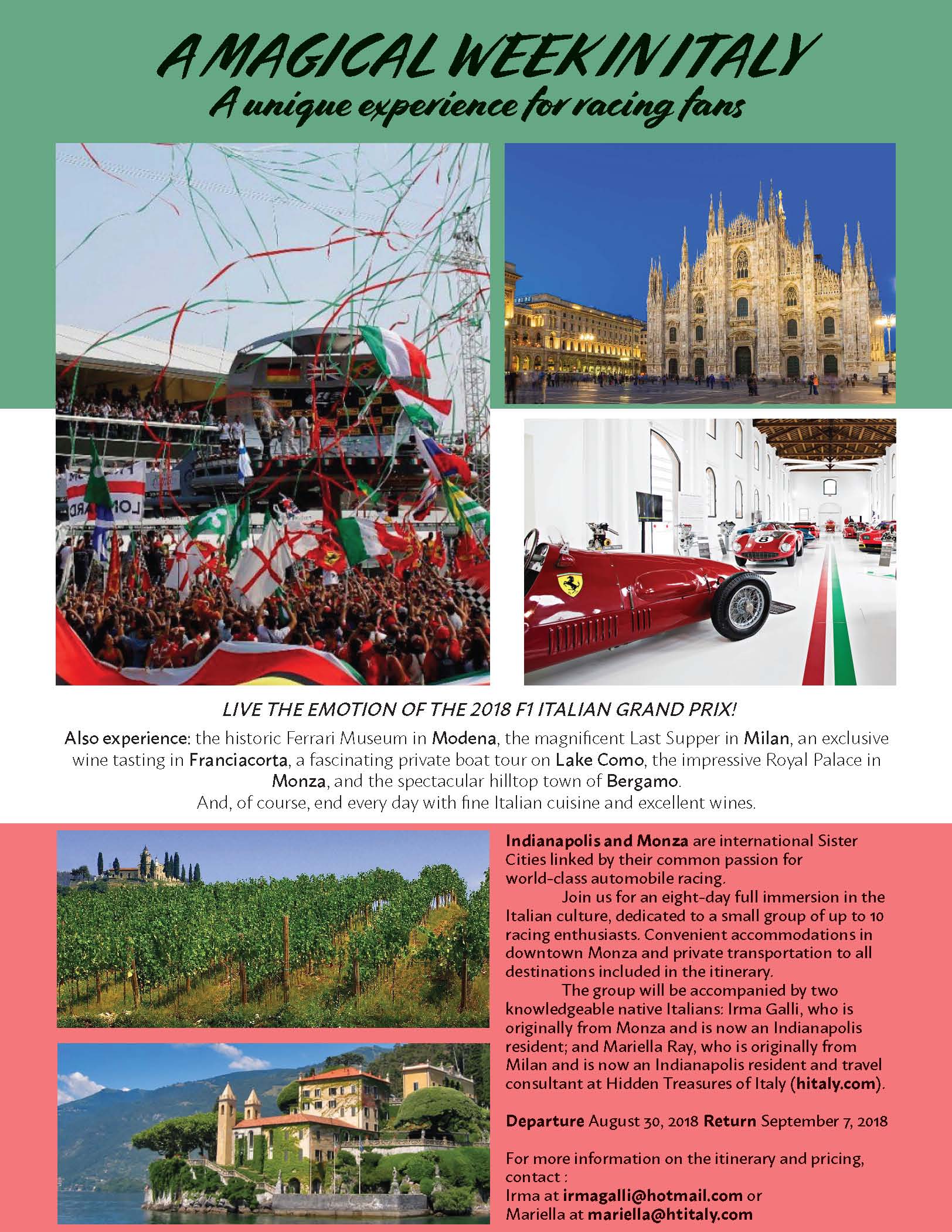 Fast Cars…and Culture, too!