Welcome to Hidden Treasures of Italy!
For more than twenty years we have been working with discerning independent travellers to help make their visits to Italy a truly memorable adventure… not as a "travel agency," but as a personalized "travel consultant," specializing primarily on Italy as a destination.
More recently, in addition to Italy – and based on the growing number of requests from our many return clients – Hidden Treasures also provides the same personalised service for other popular European destinations, including France, Spain, Portugal and Greece … as well as Germany, Austria and Switzerland.
Hidden Treasures of Italy prides itself on its highly personalized and customized service. You will find no pre-fabricated package tours at Hidden Treasures. Each of our clients receives individual attention and tailored itinerary suggestions, made to measure for their own personal interests, desires, and budget levels.
Our high level of repeat clients and referrals attests to the success of our personalized way of doing business.
Our business was founded in Chicago, run for much of its existence from Milano, and is now managed from our hands-on office in Indianapolis… following our clients' travel plans closely from the very beginning of our working relationship, all the way through their actual stays in Italy.
Each of us in Hidden Treasures is either Italian-born, or has lived for a lengthy period in Italy… and we are all warmly passionate about sharing the joys and hidden treasures of Italy with anyone who decides to visit our fascinating country.
And we shall constantly remind you that there is so much to see beyond the classic destinations of Rome, Florence, and Venice. 
There are hidden treasures to be found literally around every corner of your travels throughout Italy! 
Lastly, once your accommodations and ideal itineraries have been agreed, Hidden Treasures can also provide you a complete range of related travel services, including car rental, train tickets, museum reservations, special interest tours, cooking classes, etc… whatever you may need to make your time in Italy unforgettable and carefree.
To find out more, please explore our web site… and to learn more about how we work, please call or e-mail us – the hidden treasures of Italy await to be discovered.
As noted by the North American edition of Bell'Italia magazine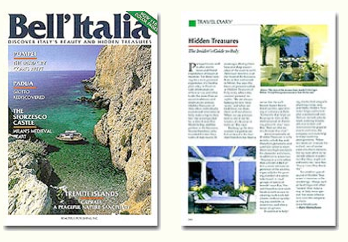 "For Mariella Ray, sharing her love and deep knowledge of the country with American travellers is at the heart of the business. Born in Bari, and raised in Milan, Mariella says the focus on personalization at Hidden Treasures of Italy truly reflects the owners' personal insights. ' We are always looking for new ' treasures,' and when we find them, we share them with our clients. When we say a restaurant is one of our favorites, it's because it truly is."
U.S. Office: (317) 748-9779 / Fax: (773) 409-5044  
E-mail: [email protected]

Recognized by the Italian Government Tourist Board