* Mariella Ray, HIDDEN TREASURES OF ITALY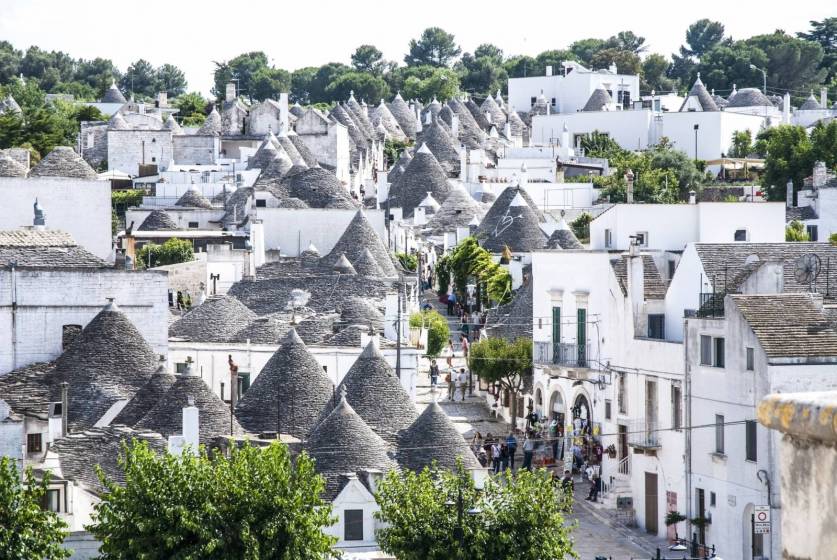 My very first blog posting back in December, 2016, focused on Puglia (or Apulia, as it has been sometimes Anglicized!). But I have barely begun to scratch the surface of this southern region, my birthplace. This week I have decided to go back "home" once again to share with you two more of Puglia's incredible hidden treasures!
The city-towns of OSTUNI and ALBEROBELLO… two truly magical cities, one near the sea and one further inland, less than thirty miles from one another. A leisurely scenic drive from one "world" to another!
Ostuni, is a gleaming white city-on-a-hill near the Adriatic coast, roughly midway between the more noted cities of Bari (where I was actually born!) and Lecce. Referred to in Italy as "La Città Bianca" (The White City"), Ostuni is actually built on three hills, with great sea views, narrow walkways, old city walls, a 15th century Cathedral (Duomo) and, of course, great eating. A complicated history, too. Its very name actually has Greek roots, from "astu neon" – "new city."
Throughout the nearby countryside there are many old "masserie" – once large fortified estate-farms – many of which have been transformed into welcoming B&B's or small family run hotels. One of our personal favorites not far from Ostuni is called Masseria Il Frantoio ("the olive oil press"). With its six utterly charming rooms, and surrounded by hundreds of its own olive trees, it is an ideal base for visiting both Ostuni and Alberobello. We would be delighted to introduce you to the friendly (and efficient) hosts!
Alberobello, another white city on a hill, is characterized by its hundreds of stone "trulli," many dating from the 14th century – and today a UNESCO World Heritage site! A "trullo" is a white, round-shaped stone home with thick walls, built without mortar, with each of its rooms topped by a characteristic conical roof, and a stone "pinnacolo" at the very top. This small city might actually remind you of a "Smurf" village, with its more than 1,500 trulli… if it weren't so fascinating and authentic on its own! Many of the cones are also decorated with "mysterious" painted symbols, inspired by obscure religious or astrological roots. An altogether worthwhile day trip from almost anywhere in Puglia!
And yes, there is much more to discover in this land of my parents, my grandparents and my great-grandparents, too. Places where I spent all my childhood summers from up north in Milano, and places to which I have returned to as often as possible over the years. I can't wait to tell you more… but don't worry, time is on our side.
In the meantime, next week? Another hidden treasure… but back up in the north this time!
"More from Puglia… the land of my birth!"*